Manometer holder and smokes drawing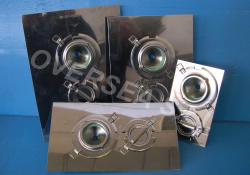 The manometer holder is composed of a base plate which allows the part to be fastened on the flue. On the flue there are two holes to which some collars are spot-welded. In the case of a double-surface flue they allow to overtake the insulation zone and get inside the flue.
The big hole is closed by a drilled plug to read the temperature of the manometer. It can therefore contain the manometer. The small hole, on the contrary, is closed by means of a blind plug. The clasps are mechanical.
Some seals that can resist up to + 200° Celsius guarantee a sealing effect against the smokes and the possible condensate of the flue. These seals are placed on the closing plugs and, if there is a manometer, under it.
All the mechanical parts are made of stainless steel sp. 10/10 AISI 304 BA or copper: Cu DHP UNI 5649/1.